A regular update of the best practice available across the branded content industry.
BCMA/Oxford Brookes/Ipsos Academic Study: Defining Branded Content for the Digital Age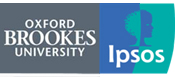 With little academic work in the area of branded content, we felt it was important to lead the industry in order to develop a clearer understanding of this 'new' key marketing concept and define branded content in the digital age.
We chose to work with Oxford Brookes University and our global research partner Ipsos. The first phase of the study includes a literature review, a new definition of branded content and uncovers emerging themes that will help brands harness the power of branded content for maximum benefit. The second phase of the study is taking place over the few months with the results being available early next year.
A collaboration between Academia and Industry
Developing a clearer understanding of a 'new' key marketing concept
Little academic work in the area of branded content
Define branded content in the digital age
The study is being conducted by Oxford Brookes University and the BCMA's global research partner Ipsos Mori
Videos not included in PDF, see titles below which can be viewed here…
1. "A BMW Motorcycle Story" by Bill Costello (Pg.9)
2. "A Day Made of Glass" – Corning Glass (pg.18)
3. "United Breaks Guitars" – Dave Carroll (Pg.21)
Overview Document: ContentMonitor
The ContentMonitor is a branded content measuring system that is set to become the industry standard.
Download ContentMonitor summary
"Best of Branded Content Marketing" ebook First Edition
The Best of Branded Content Marketing is the first in a series of social media and branded content ebooks.
This book includes explanations and observations from contributors as diverse as Laurence Llewelyn-Bowen, DuPont, MINI, HSBC, Remington, Duchy Originals, Ipsos OTX MediaCT, Martha Fiennes, BBC Worldwide, Capital One, Perrier and more.
Download ebook from iTunes
Download Slideshare edition
Ask the Audience: Evaluating New Ways to Fund TV Content
Sian Kevill and Alex Connock
Funding and distribution models are evolving for TV and video content created outside traditional commissioning routes – and generating debate around editorial credibility, regulation and effectiveness.
This report undertaken by Ipsos MORI and Shine Productions for the Reuters Institute of Journalism explores what viewers actually think of TV shows created in this way.
The results show a high tolerance of advertiser presence in content, well beyond what regulators currently tolerate in the UK.
What is Acceptable for Global Consumers in Advertiser Funded Programming?
In an ever more fragmented media marketplace, brands are increasingly turning to the funding of television programmes as another method of raising awareness and profile. In return for varying levels of exposure and creative influence, a company can provide much needed funding to aid the production and betterment of a programme. Though research has been conducted to understand this area, the effort has largely focused within the industry, talking to programme makers and industry figures about the do's/don'ts and future of advertiser funded programming (AFP).
Very little work has been conducted on how the general public feels about company involvement in TV programmes, until now. In 2013, Ipsos MediaCT, in conjunction with Shine and Make World Media on behalf of the Reuters Group, conducted an online survey among a nationally representative sample of 1,500 people across three countries. The aim of the project was to find out what is acceptable and unacceptable in this area. Ipsos MORI also covered opinions on the subject in our Global Trends & Futures Survey, via an online survey administered in twenty markets.
Download Ipsos MediaCT Funding TV Programmes
Commissioned Research:Milestone Attitudinal Consumer Study
As a barometer of the changing attitudes towards branded content, the BCMA commissioned a wide ranging survey of 'milestone' questions to establish a benchmark level for branded content activity.
Featured Research:Beyond the Ad Break
Branded entertainment is hard to pin down as a discipline because it's still in the process of being classified. Nevertheless, this report from Brand-e stands up to its own brief.
Download Beyond the adbreak briefing
What Is The Social Video Report? A must read for brands
The Social Video Report is a study into the consumption by UK consumers of online video. The report is based on quantitative research across all platforms and focuses in particular upon the online viewing of brand-related videos namely Product Reviews, TV Commercials and Branded Entertainment.
The Report details audience reach, incidence rates, content preferences, motivations and impacts by demographic and consumer segmentation. In particular, the Report investigates and quantifies behavioural impact of brand-related online video in the form of Engagement, Sharing and Purchasing.
http://www.visibilityiq.com
www.entertainmentmediaresearch.com
For the full report please go to http://socialvideoreport.com