BCMA: "Best of Branded Content Marketing" eBook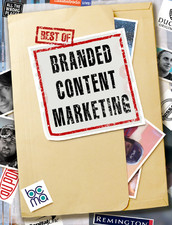 Created in conjunction with the Branded Content Marketing Association, The Best of Branded Content Marketing is the first in a series of social media and branded content ebooks.
This book includes explanations and observations from contributors as diverse as Laurence Llewelyn-Bowen, DuPont, MINI, HSBC, Remington, Duchy Originals, Ipsos OTX MediaCT, Martha Fiennes, BBC Worldwide, Capital One, Perrier and more.
It features 10 of the best recent campaigns produced by major brands and SMEs, providing different perspectives on how organisations are approaching the use of branded content and how consumers are responding – complete with details about the challenges faced, solutions chosen and results achieved.
Finally, expert practitioners from around the world postulate about what the future holds for branded content marketing – and invite you to provide your own views via an interactive form.
The book was pre-launched in April 2013 at MIPTV in Cannes where it was cited as "extremely well-received" and "a fantastic read".
We hope you enjoy it and find it useful for your work.
Download your copy of The Best of Branded Content Marketing eBook
ContentMonitor – a branded content evaluation system.
"We're living in an age of accountability, and recent austerity has forced the pace. We're also living in an age of media channel proliferation which has led to stiff competition for advertising revenue. Channels seeking consideration by
potential advertisers will have to underpin their claimed contributions or they
will perish. The BCMA's initiative puts branded content firmly in theframe."
Bob Wootton, Director of Media & Advertising, ISBA
The BCMA is constantly striving to provide fresh research and insight into the field of branded content. With the recent launch of the ContentMonitor, members are entitled to a significant discount on research projects and indepth access to case studies. The  ContentMonitor system is an essential tool for media agencies, creative agencies, PR agencies, production companies and media owners for planning and evaluating branded content campaigns.
It gives marketers an in-depth insight into:
How your branded content campaign is performing against key brand metrics, allowing you to determine the ROI
Which elements of the campaign are performing the most strongly in meeting the campaign objectives
What you could do differently to support the campaign more strongly to optimise its ROI
The ContentMonitor has been developed by contentworx, a branded content specialist agency on behalf of the BCMA with two leading companies in the area of advertising and planning research – Ipsos and Pointlogic – and is modular in its approach, making it suitable for all sizes of campaign.